With the constant growth of popularity of the Spanish caminos, people always come with new products and business ideas. Sometimes they try to help the pilgrims, and sometimes they simply hope to enjoy their fraction of this juicy pie, making some money from selling something to pilgrims. And since a modern man of 21st century barely ever leaves his home without a smartphone, it should not surprise us that new Camino apps pop up almost every year. In my experience though, the only application you really need for a Camino is an application that provides maps, ideally offline. With good maps you always know where you are, can see the Camino route, can opt for alternative routes, and basically feel calm on the trails.
But what is the best map or mobile app with maps for the Camino? In this article we will look at three popular applications that provide online or offline maps. Each of them has some pluses and minuses, and each can help you a lot on the Camino. I sincerely believe that at the end of reading this post you will be able to make your choice, and won't ever get lost on your pilgrimage :). Let's start!
Mapy.cz – Best for trails and alternative routes, shelters, camping places
The first application is called Mapy.cz, and you can find it on the Google Play store here. Just like with most other applications from the category, you download the main app and then you download offline maps of the locations of your choice, in this case for different provinces of Spain. The offline maps do not take up too much space, so if you aren't exactly sure what Spanish provinces you will walk through on the Camino, you can just download all maps for Spain.
What I really love about this application is that you can see on the map almost all waymarked trails in any country, including the camino routes. Hence if you aren't sure where you are, you just open the map (even when offline), and in seconds (as long as your device's GPS locates you) you see whether or not you are on the Camino. What's more, it is excellent for finding way-marked alternative routes to the main Camino, which comes super handy on certain routes, such as Camino del Norte. Alternative routes are typically a bit more strenuous, but they take you to the most beautiful places on the coast, secluded beaches and breathtaking cliffs.
Just as with any other good mapping application, you can bookmark places on the map, you can use navigation function, specifying means of transport (on feet, bike, car), and the intelligent app will show you the best way to the place. The application is completely free, works offline (as long as you download offline maps), and they actualize it pretty often too. Let's have a look at main pros and cons (when compared to other competing application).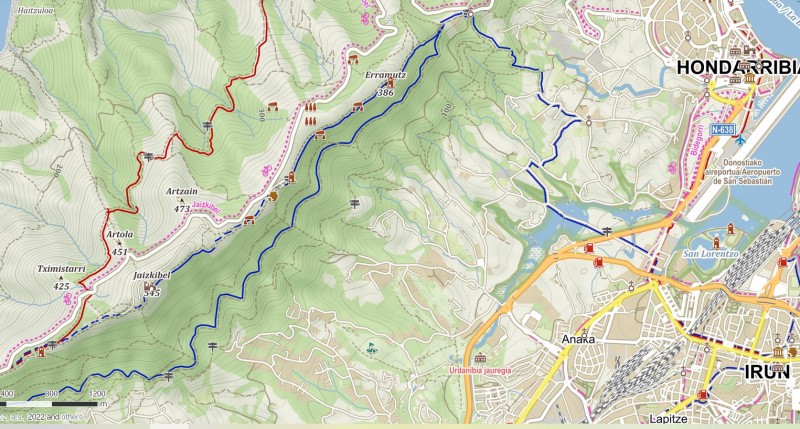 – Screenshot from mapy.cz app, from an area near Irun (starting point of Camino del Norte). You can nicely see on the map the main Camino way (the dark blue line), but also alternative routes (also in dark blue), and other waymarked trails you can follow (red color). Churches, camping places and other spots where you can relax or sleep are also visible, but you will see many more if you zoom in the map.
Main pros and cons of mapy.cz app for the Camino
+ All Camino routes are marked on the maps, including the lesser known Caminos. Regardless of whether you walk Frances, Via de la Plata, Olvidado, or San Salvador, you can always open the app and see whether you are on the trail.
+ Great for finding alternative routes, for example when you want to avoid road walking, or when you want to get closer to the coast.
+ By far the best app when it comes to locating shelters, camping places, and other areas where you can sleep in the open on the Camino (check my article on Camping on the Camino for more information).
+ Works offline, which can come handy in some rural parts of Spain with bad or no mobile signal.
+ You can locate vast majority of pilgrim hostels (albergues) with a simple search on the map, even when offline.
– In order to make bookmarks, you need to create an account on the platform of the owner of the app (Seznam.cz). You can use the app without any registration, but the functionality is limited.
– Not that good in terrain recognition – In my experience, meadows are often colored like forests and forests like meadows, etc, especially when it comes to smaller patches of land. This isn't a big issue, but I just wanted to point it out since other apps do this one better.
– When using the navigation function for walking, estimated time is often very incorrect. You are walking the Camino, and you wonder how long it will take you to reach the albergue. So you open mapy.cz, find the albergue on the map, click on it, and ask the app to navigate you. And it will, but the time can be really off a lot, like it says it will take 4 hours whereas realistically any pilgrim will reach it in two. This isn't the end of the world, and it would be worse other way around (if it showed 2 hours but it would take you 4 to reach the albergue), but still I believe they could have done a better job here.
Maps.me – The crowds favorite on the Camino and other trails
If we should pick the most popular app with maps for hikers and trekkers around the world, we have to go with maps.me (you can see it on Google play here). The number of downloads and positive ratings is just insane, though it doesn't necessarily guarantees the app is the best choice for the Camino. Again you can download as many offline maps as you want and for free. What I like about this app is a pretty simple and user-friendly interface. If you've never used any similar app before, you will easily find your way around maps.me.
This mapping application is really strong when it comes to navigation. Not only are the estimated times much more accurate than mapy.cz shows, it also gives you a nice elevation profile, and it is relatively easy to plan complex routes with the app (from point A to point B to point C, etc). However, it shows just some trails, including just some of the Camino routes. Hence walking with it, you cannot always see whether or not you are on the Camino… Sure enough you will know where you are, and can see some path or route to the nearest city you should reach on the Camino, but you won't always know whether or not you are on the "official way". Let's have a look at all pluses and minuses.
Main pros and cons of maps.me for Camino de Santiago
+ Clean user interface and simple to use for beginners. You shouldn't experience any headaches with this application.
+ The best when it comes to navigation from point A to point B, or even for complex routes (point A to B to C to D etc). The estimated time of walking is more accurate than with mapy.cz , and you see a nice elevation profile, so you can also see for yourself how difficult the path ahead of you is (whether you will go up or down), and estimate when you will reach your destination.
+ Works offline, completely free, no need for any registration, you can use all major functionality right from the bat.
+ Better for terrain & landscape recognition, which can help with some decisions on the way, though this isn't important for most.
– Shows just some waymarked trails, and in general it doesn't show as many trails and paths and routes as Mapy.cz does, which means it isn't as good for planning alternative routes, finding the easiest way back should you get lost, etc. In some cases you may not even see the Camino route on the map.
– Shows just some shelters along the Camino, it isn't the best app to use if you are into camping or sleeping in the open while on your way to Santiago.
– In my experience, it can get very slow on older devices, and freezes often. Hence if you have an older smartphone that doesn't run the newest version of Android, you may rather opt for another application. When you are lost, the last thing you want to is waiting five minutes for an app to unfreeze.
Google maps – Can help in certain situation on the Camino, but you should not rely solely on it
You have this app in your phone by default, so you do not have to install anything. However, keep in mind that Google maps wasn't designed for trekkers and pilgrims. It is primarily for drivers, or for travelers who use public transport, and for people trying to find their way around a city. It doesn't really show any trails in the mountains or in rural areas. You won't find Camino routes there either.
Having said that, in certain instances it can help you a lot on the Camino. The Street View function for example can help you find your way to an albergue in the city. It is also super precise when it comes to locations of shops, pharmacies, hotels etc anywhere in Spain. So if your knee starts to hurt badly and you look for the nearest pharmacy, there's nothing easier than finding it with a simple search on Google maps.
The biggest drawback of Google maps is that the app works only when you are online. And it eats a lot of data… So if you're from the US for example and every GB of data costs you $20, you may consider twice whether you want to use Google Maps at all. Having said that, the biggest drawback is also the reason of one big advantage: the real time data. Google maps is by far the most accurate when it comes to estimating time it takes to get from point A to point B, since it calculates with real time traffic conditions and other relevant circumstances.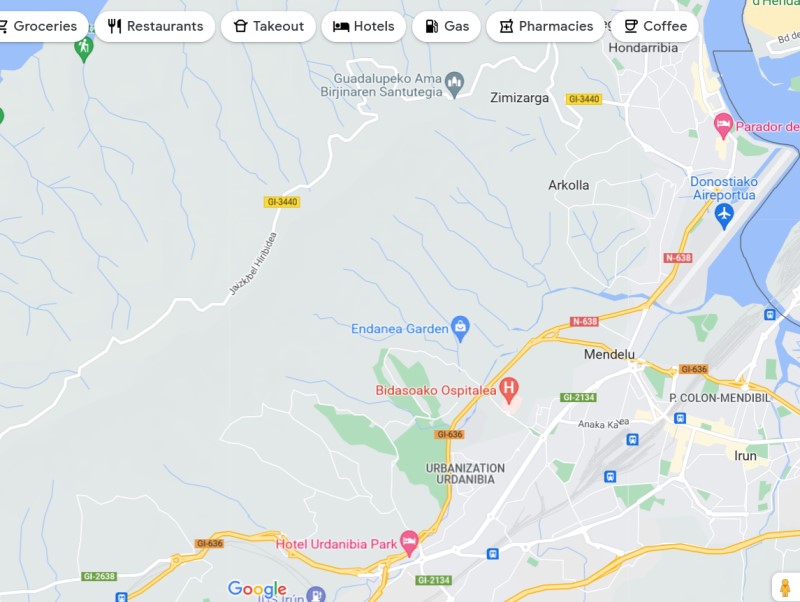 – Screenshot from Google maps of the same area (Irun, starting point of Camino del Norte). As you can see, the camino routes or other trails are not visible on the map at all. However, you can find the enarest grocery store, pharmacy, hotel etc with one click of button. In certain situations in the cities, Google maps can help you a lot on the Camino.
Main pros and cons of Google Maps for Camino de Santiago
+ The best for navigation in bigger cities and towns, since all businesses and services are on Google maps.
+ Extensive user base, it helps you with your choices since it shows reviews for all places. With maps.me or mapy.cz you may sometimes find it hard to tell whether or not a place is worth visiting. With Google Maps you can always check what other people think.
+ Real time data, super accurate when it comes to estimated time of arrival, for both traveling by car and walking.
+ You have it by default on your phone, so no need for any additional installs, registrations, etc. It also interacts nicely with other apps from Google.
– Pretty useless in the mountains or rural areas, as it doesn't really show any dirt roads or trails.
– Camino routes are not market on the map, so it won't help you see whether or not you got lost and how you can return to the trail.
– Works only online, which can get pretty costly for a foreigner in Spain, and you also cannot count on always having reception and mobile internet in the country.
– Useless when it comes to terrain recognition, finding alternative paths, camping places etc.
Final thought on best maps for Camino de Santiago
As you can see, each of the popular mobile apps with maps has some pluses and minuses. In my experience, you should never rely on Google maps only, at least if you want to have some sense of security on the trail (an ability to always see where you are), and if you think about taking alternative (more beautiful) routes sometimes, for example when you want to avoid walking on some busy road full of cars.
Probably the best combination is using Google maps while you are in the cities, and either mapy.cz or maps.me anytime you are walking in the nature, or in small towns. Both of these apps are pretty good, and it really depends on your preferences and way of doing the Camino which one you choose. But you should download at least one of them + offline maps for Spain before embarking on your pilgrimage. Hope it helps, and I wish you Buen Camino!
Matej
May also interest you: