It is not necessarily true that lighter backpack is easier to carry, and that you will enjoy the Camino more if you carry 4 kilos than 8 kilos. Each approach has some pluses and minuses, and more things mean more comfort on your pilgrimage. Having said that, I fully understand that most people who can afford it prefer to pack as light as possible, which makes a lot of sense especially when you do a pilgrimage in Spain in summer, and hence aren't risking some extreme suffering from cold or some similar unpleasant experience.
I put together an ultralight packing list for the Camino, the one month long journey from Saint Jean Pied de Port to Santiago. This list counts with a few things. First of all, that you will spend all your nights on the Camino in either pilgrim hostels or hotels that provide bed sheets and blankets. Secondly, that you will walk in the summer, when rain is rare and cold temperature isn't a problem–hot temperature is. And last but not least, that you understand that you are on a pilgrimage, and not on a dating trip, and do not expect to always look like a model from a catalogue :). Let's proceed to the list. With each recommended item I also post approximate weight in grams.
Group one: The basics and shoes
Ultralight backpack, 30-45 liters, 0.5 – 1.1 kilogram, anything more cannot be considered ultralight. If you can afford it, opt for special high quality hiking backpacks, if you can not, you can also take one of those light "city packs", but I warn you that your back may suffer in such a case. Price range: from $30 for simple city pack to $500 for top notch ultralight backpack from most modern materials. Recommended products on Amazon: Women, men. Please note though that Amazon isn't the best place to buy backpacks, and I recommend you visiting a local hiking store instead, and ask for a lightweight backpack.
Light sleeping back liner, 0.2 – 0.4 kilogram, you can get one of these easily from Amazon, they cost little and will help you feel clean in the bed, should the place where you sleep offer just unwashed blankets for the night. Price range: from $10 to $35.
Headlamp, ideally with red light, 0.2-0.3 kilogram, necessary for orientation in the pilgrim hostels at night, and it can also serve you for early morning walk (pilgrims often start early in summer in order to avoid extreme heat in the afternoon). Price range: from $15 to $100, depending on the manufacturer and the functionality of the lamp. Check my favorite one from Petzl (lightweight and universal) on Amazon.
Trail running shoes, 0.5-0.6 kg, but you will wear them while walking, so we should not count it to the weight of your backpack. I can highly recommend Altra Lone Peak (here's one for men, and one for women), walked thousands of miles in them and never got blisters. But you can wear any of your favorite brands. Price range: $50 to $200.
Crocs or other sandals for albergues, past time, shower, and city walks, 0.3-0.7 kilogram. Make sure to buy one of those that are lighter, but do not necessarily try to save every gram here, since the lightest sandals may fall apart or be uncomfortable to wear. Price range: $15 to $80.
Smaller quick-dry towel, 0.2-0.3 kilogram. You can get these from many different shops and manufacturers. Do not rely on getting a towel in a pilgrim hostel, most places do not provide them. Unless you plan to stay only in hotels and bed & breakfast places along the Camino, you should take a towel. Price range: $15 to $50. My favorite one (ultralight, compact, dries super quickly and costs less than $10) on Amazon.
Rain poncho or light-weight umbrella, 0.1-0.3 kilograms. If you walk in a season when it rains super rarely, you can take just that plastic "one time use poncho" that weights close to nothing. If you walk Camino del Norte, however, or some other way where it rains quite often also in summer, you'd better take a better quality poncho that won't fall apart after one use, or you can take an umbrella instead. Price range: $1 – $40.
A small pack/bag for activities outside of walking, such as shopping, going to the beach, to take personal stuff to shower with you, etc, 0.05 – 0.2 kilograms. Even a plastic bag from a supermarket will do here, though it isn't the most comfortable option :).
Total weight of all items from the group: 1.6 – 3 kilograms, not counting in the trail running shoes since you will wear them while walking.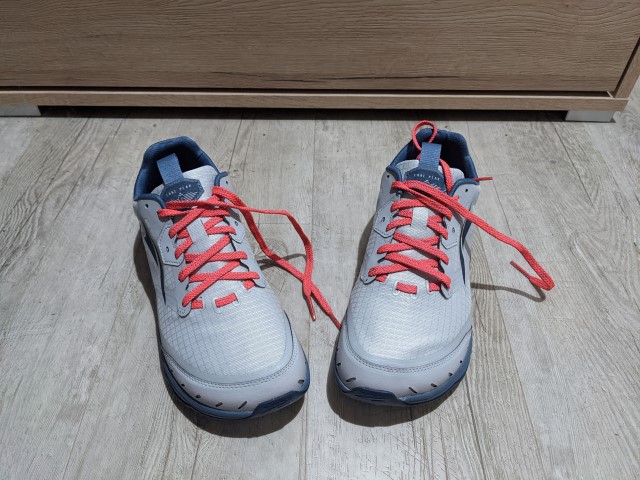 – The newest model of Altra Lone Peak shoes, waiting in my shoe cabinet for my next Camino (which will start pretty soon :)). These shoes are no. 1 choice for Americans when it comes to long distances hiking & trekking.  I am no American, but can appreciate quality stuff for hikers and runners designed in the US.
Group two: Clothes
One technical t-shirt for walking, 0.2-0.3 kilogram. Take a t-shirt from polyester, elastane, or other material that dries quickly. You will walk in this t-shirt, and you will quickly wash it in your hands in each pilgrim hostel. Again we won't count it into the total weight, since you will carry it on you while walking. Price range: $15 – $50.
One merino wool t-shirt for past time, sleeping, city walks, relax, 0.2-0.4 kilograms. Opt for quality merino, from reputable brands like Ortovox or Devolt. These t-shirts are super comfy and they never smell bad, even if you sweat, so you basically don't have to wash them the entire Camino… Price range: $50 – $100.
One walking pants, ideally with an option to unzip bottom part and change them to shorts, 0.3 – 0.5 kilograms. You will walk in these so we do not count them into the total weight. Price range: $30 to $100.
One past time pants (or skirt or dress for women), 0.3 – 0.5 kilograms. You will wear these in the albergues, restaurants, etc. Price range: $30 to $100.
Ultralight down jacket, 0.15 – 0.30 kilogram, for cold mornings or evenings, or simply for a rare cold day on the Camino, down jacket is always good to have. Of course if you do not like down (from ethical or other reasons), you can opt for synthetic materials as well. Price range: $200 – $1,000 (these ultralight jackets can get pretty expensive, but this golden nudged you can get for less than $300 and it is fine for people who want to avoid down too).
2 pairs of socks, 0.05 – 0.1 kilogram, self explanatory. In my opinion, for comfortable Camino it is better having three pairs of socks, but if you pack ultralight you can do with two. Taking just one pair is too risky, though I witnessed some die-hard ultralight packers do so. Price range: $10 – $30 per pair.
Underwear, two pieces, one for walking and one for past-time and sleeping, 0.1 – 0.3 kilogram. You probably have your experience here. I strongly recommend underwear from merino wool, it is very comfortable for both walking and resting/sleeping, but it is up to you and your preferences. Price range: $10 – $50 per one item. Recommended products on Amazon: My choice for men, my choice for women.
A hat, or a baseball cap, 0.1-0.3 kilogram. It is crucial that you take some hat (or at least a buff) since it gets super warm in Spain in summer and you will risk heat stroke on the Camino (I saw it happen dozens of times). What type and shape of hat you take depends on your preference, but you should take some. Price range: $10 to 30$.
Total weight of all items from the group: 0.8 – 1.5 kilograms, not counting in items you will wear on you while walking.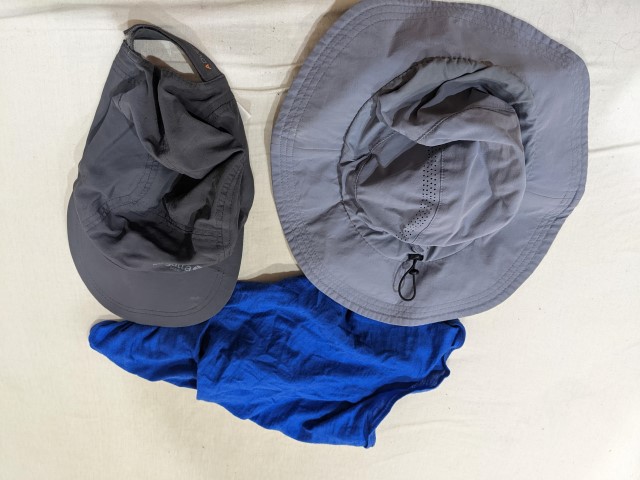 – You have many options when it comes to your head cover for the Camino (to protect you from the heat of Spanish sun while you walk). The best options are lightweight though, such as a the hat, cap, and buff that you can see on the picture. Each of the three on the picture weighs below 100 grams.
Group three: Cosmetics and first aid
Note at the beginning: Spain is a first world country, and you will find pharmacy in every small town. Hence it makes no sense carrying stuff you may easily buy at every corner. When it comes to first aid, you should carry really just the essential stuff (as long as you want to pack ultralight, and that's what this list is about :)).
* Items in this group are inexpensive so I do not include price range on the list.
4 emergency OTC pills against headache, toothache and similar cases, 0.01 kilograms. No need to take the entire pack, you will use them just in emergency cases, and can always buy new ones in the next pharmacy.
Earplugs, one pair, ideally from wax, 0.02 kilograms. Earplugs are absolutely essential on the Camino, since you will share rooms with other people and almost always at least one will snore.
Sunscreen, minimalist package, 0.2 – 0.3 kilograms. Do not underestimate the strengths of Spanish sun. You will eventually get accustomed to it, but for the first week or two it is better applying sunscreen, at least to the most vulnerable areas of your body (neck, shoulders, nose, lips, ears, etc).
One smaller bottle of shampoo (or firm shampoo), 0.2 – 0.3 kilograms. You will use this for both washing your hair and body, and for washing your clothes if no soap is available in the hostel. You can easily but new shampoo in Spain, so it makes no sense carrying a big bottle just that it lasts you all the way to Santiago.
Toothbrush and toothpaste, just quarter or half full, 0.1 – 0.2 kilograms. No need to take a new package, just take the one you opened back home month ago and is just half full, you will easily save 100-200 grams in this way, and it will easily sustain you all your pilgrimage (and if not you can always ask a fellow pilgrim for a bit of toothpaste :)).
Small roll of toilet paper, 0.1 kilograms. Better be safe than sorry. You may not use this one all the way, but once you feel a strong urge to relieve yourself in the bushes it is really good to have it…
Two plasters for blisters, or "second skin", 0.02 kilogram. Again you can purchase it in any pharmacy in Spain, but it is better having a pair on you, should you (or other pilgrim you try to help out) get a bad blister in the middle of nowhere.
Total weight of all items from the group: 0.6 – 0.9 kilogram. It is important to note here that I went for a really ultralight and minimalist setup. If you are used to applying certain creams on your skin, or like to use a deodorant (to smell good on the Camino), etc, you can add items to the list. But you shouldn't forget that grams add up quickly here, and adding 5-6 cosmetics & first aid items may easily add an extra kilogram to your backpack. The key is to find the right balance of weight and comfort, but in this post we go for ultralight setup which means we sacrifice some comfort in order to get our backpack below the magical 4 kilogram mark.
Group four: Electronics & accessories & documents & emergency food
A small Swiss knife (ideally with scissors), 0.15 – 0.4 kilogram. Some people may consider it obsolete, but having a simple quality Swiss knife with you comes handy in many situations–to open food packages, to cut your fingernails, to repair some part of your equipment, and so on, and so forth. In my experience, it is simply better having it with you, though the extra 200 grams on the lower end are quite a lot… Price range: $50 – $200 (for a quality light-weight Swiss knife). Recommended product: This amazing knife from Victorinox.
Smartphone & charger & small headphones, 0.2-0.4 kilograms. I am not necessarily a big fan of smartphones, but they made lightweight packing for hiking trips so much easier. A smartphone with right apps installed is a phone, a map, a camera, a GPS device, an MP3 player, a voice recorder, a dictionary, a book to read, a notepad to write to, etc in one piece, and saves a ton of space and weight when compared to old times when we used to take all those other things with us. Still, you should opt for phone that's not very bulky. Google Pixel or one of the smaller iPhones is a good option. Price range: $300 – $1,000.
Personal documents (ID card, passport, insurance card, debit/credit card, etc), 0.1-0.3 kilogram, depending also on the weight of your wallet. Take just the stuff you really need. It makes no sense taking the entire wallet with a gym card, all your discount cards and whatever, since you won't really use them in Spain.
Money, weight negligible, unless you take too many coins :). It is important to have some cash with you, since you won't be always able to pay with your credit/debit card. Having a couple of coins helps as well, such as to get a coffee or a snack from one one the many vending machines along the Camino.
Emergency food, 0.05-0.5 kilograms. Walking Camino Frances, you won't typically need to walk more than a mile or two to reach the next bar or refreshment spot. But it is still better having a few muesli bars with you, or some nuts, or some fruits, just to make sure you will overcome the crisis that comes upon you in a rare spot without services.
0.5 – 1 liter of water, 0.5-1 kilogram. As I've just mentioned refreshment points (and water fountains) are pretty frequent on the Camino, but you should always have at least some water with you, for emergency reasons if for nothing else. Actually unless you have a lot of hiking experience I'd recommend you taking at least 1.5 liters, but this is an ultralight Camino packing list, and with 1.5 kilograms of water you just won't make the cut.
Total weight of all items from the group: 1 – 2.6 kilogram. You can save a lot here by taking less water and less food, but I am not sure it is a deal worth making…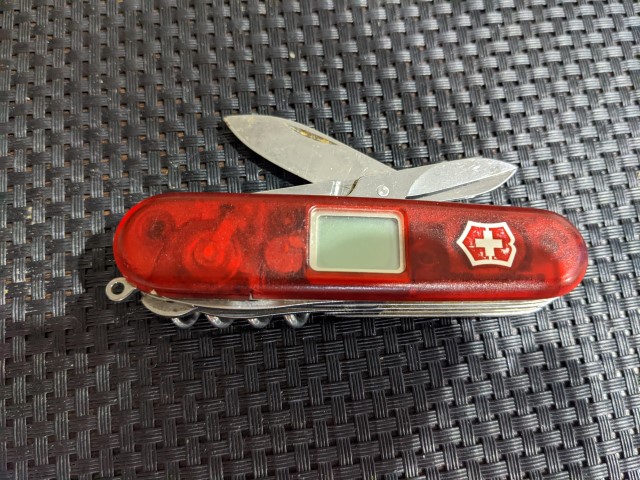 – Quality multi-purpose Swiss knife like the one on the picture has helped me countless times on my pilgrimage. These knives are expensive but they will last you decades, and it is definitely worth getting one for the Camino and other hiking adventures.
Summary weight for your ultralight Camino de Santiago packing list & final thoughts
Let's summarize the weight for items in different groups:
Basics & shoes: 1.6 – 3 kilograms.
Clothes: 0.8 – 1.5 kilograms.
Cosmetics & first aid: 0.6 – 0.9 kilograms.
Electronics, documents & emergency food: 1 – 2.6 kilograms.
As you can see now, if you pack as a minimalist and do not mind spending a few extra hundreds (or thousands) on lightweight clothes & stuff, you can get the weight of your backpack down to 4 kilograms, including emergency food and water (half a liter in this case). That's pretty amazing in my view, and something that would hardly be possible ten, let alone twenty years ago.
Having said that, keep on your mind that the key is to find the right balance of comfort and weight for your Camino. A lot of things can pack into an additional kilogram – five extra items of clothes, or a lot of cosmetics, or lightweight trekking poles & spare trousers for colder weather, or one book in print & some small musical instrument :). No doubt you may walk the Camino without these items. Having them on you is perhaps worth the extra kilo or two though, but that's a call you have to make…
Hope this helps, and enjoy your Camino!
Matej
May also interest you: