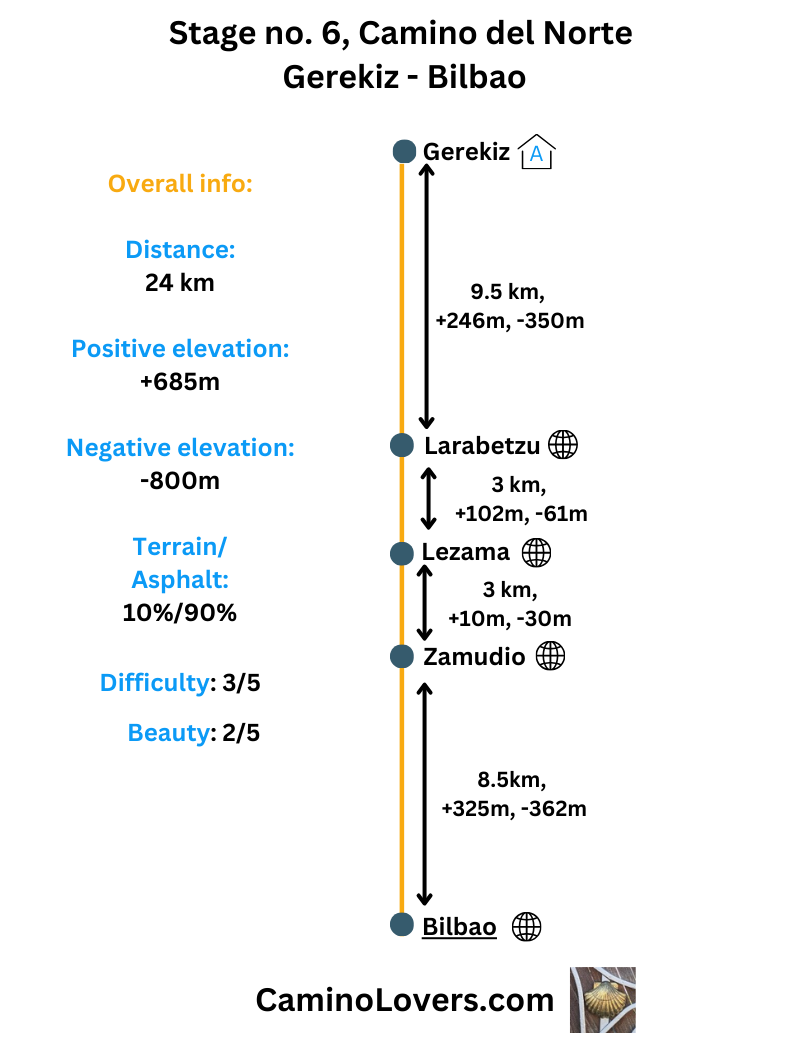 Basic Details
Starting point: Albergue de Peregrinos Gerekiz, Gerekiz.
Ending point: Old city center of Bilbao
Availability of alternative routes: No
Distance: Official camino route: 24 km (download GPS here)
Elevation difference: + 684m, – 803m.
Link to online map: here.
Difficulty score: 3/5.
Beauty score: 2/5.
Terrain/asphalt: 10%/90%
Elevation profiles for routes

– Elevation profile, official Camino route, chart generated by trackreport.net
Advanced info about the stage
Trail marking: The closer to Bilbao we get, the better the trail marking. You do not need to worry about getting lost at this stage, and the yellow arrows, as well as other signs, are plentiful. On the top of that once you are Larrabetzu, the navigation is pretty straightforward. You just follow the same street/road until Zamudio, where you will turn left uphill, to reach the recreational area/park on the outskirts of Bilbao. You can see the climb from the bottom (and some pilgrims sweating in front of you :)), so there isn't really a way of getting lost, unless you decide you do not feel up for the challenge and take a taxi. Which obviously I do not recommend.
Alternative route info: There is no alternative route available, at least not one worth taking.
Natural places worth seeing: The recreational area above Bilbao, the Monte Avril, is not spectacular in any way, but offers nice views on the city of Bilbao, and you will likely welcome an option to relax on one of the many benches there, after the difficult climb you have just done from Zamudio. Other than that there isn't any natural place worth a special mention.
Historical, architectural, and culinary places worth seeing: Obviously as every big city, Bilbao offers a bit of everything, regardless of whether you are an architecture lover, enjoy history, or want to have some decent and overpriced meal. My number one choice is definitely the Guggenheim museum, worth to see both from outside and inside. The tickets are 6,50 euro for students and pensioners (65+), and 13 euro for every other adult. If you're one of those few pilgrims under 18 years old, you will get in free of charge. Bilbao has its old town, but since the city is primarily an industrial capital of Basque country (some people even call it industrial capital of Spain), do not expect to see an old town similar to the one in Seville, Salamanca, or perhaps Santillana del Mar (the last one you'll pass a few days later on your Camino, for the first two and for many other beautiful historic cities, you" have to do the Camino from Seville to Santiago, called "Via de la Plata").
Camping/bivouac options on this stage: There aren't really any good options. You may find it tempting to camp at the Monte Avril, the recreational area just before Bilbao, with an idea of enjoying a nice sunset with a bottle of wine and some hot Catalan pilgrim at your side. However, keep in mind that this area is traversed by locals a lot, including the police, and there aren't really any good hidden spots. When it comes to official camping places in Bilbao there are a few, but they are either very far from the Camino, or have a bad reputation. And all of them are overpriced anyway. If you go there do not say that I have not warned you :). To sum it up, this isn't a good stage for camping/bivouacking in any means. If you're stubborn and want to camp always, your best bet is skipping the zone of Bilbao altogether and camp much further on the Camino.
Dog friendly score: 3/5. To my surprise this stage isn't that bad for dogs. The roads you'll walk on aren't too busy, you'll have some nice spots to stop, and there are water fountains. Also there are trees and shade during a significant part of the walk, so your dog will have some nice spots to just lie and relax.
Special remarks: Many other guides recommend doing a short stage from Lezama to Bilbao, so you have more time to enjoy the "big city". I do not recommend this though, for several reasons:

You won't find any hostel or albergue in Bilbao that opens before 2pm anyway. Most will let you in from 3pm or 4pm only…
There's not that much to do in the city anyway, especially in the morning when almost everything is closed.
Pictures from the stage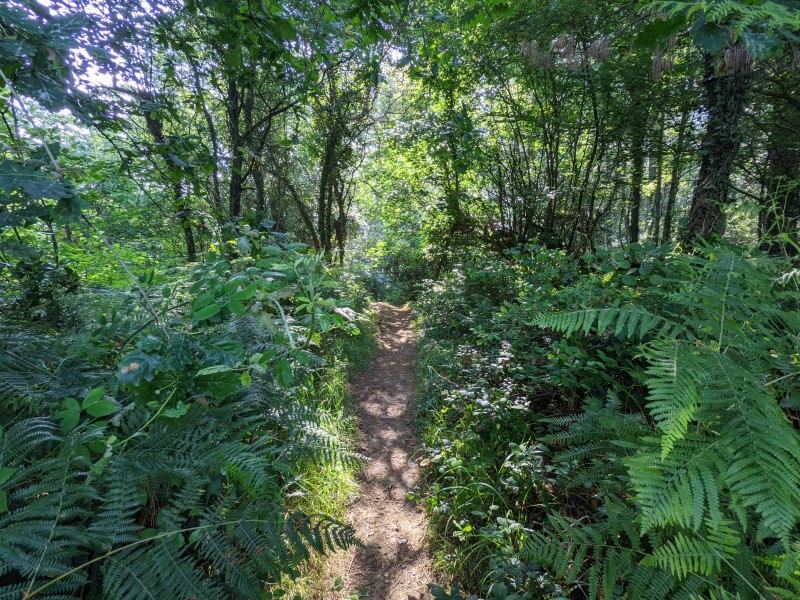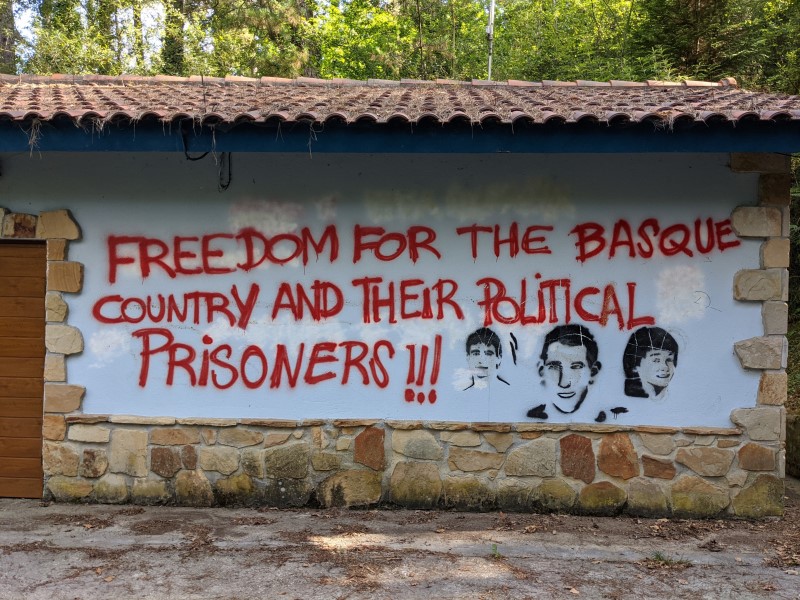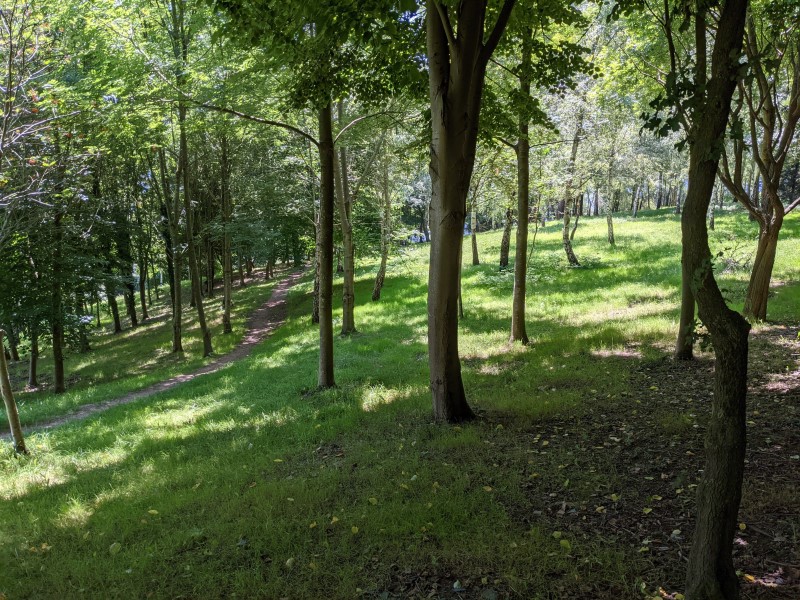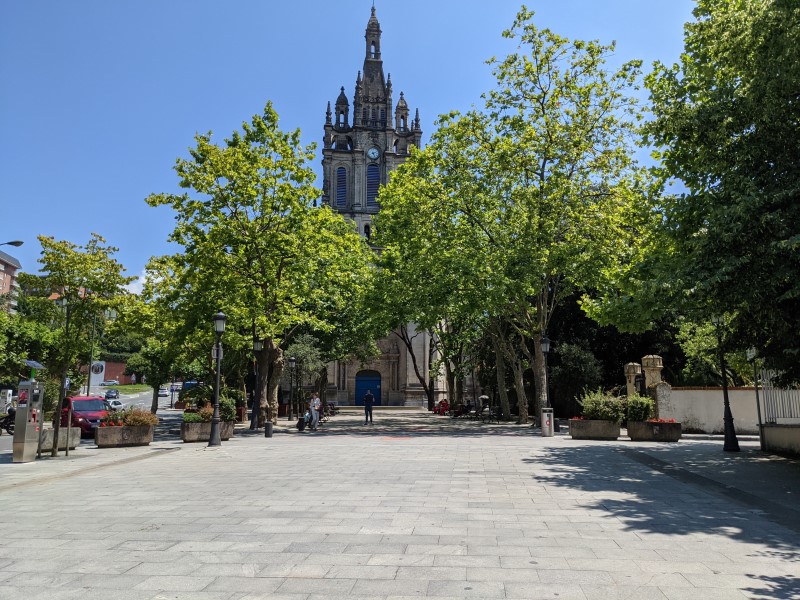 – As you can see, there are nice sections even here, close to Bilbao. The first natural photos are from then section right after Gerekiz, the other from a nice park/relax area for city people that you will walk through right before descending to the center of Bilbao (typically pilgrims remember the hill they have to climb to reach this park for quite a time; it starts in Zamudio, km 17, and in 3 kilometers you'll climb about 300 vertical meters).
Few tips at the end
If you're not overly tired, I do not recommend taking a day off in Bilbao. Unless you are football (soccer) fan, there's not much to see in town, except of the two museums (Guggenheim museum, and museum of fine arts), that are definitely worth the visit, but you can take care of that even on the day of your arrival. Sure, you can get some overpriced pinchos in many restaurants, but they aren't any better than pinchos in the small towns. On the top of that, the city is extremely crowded with tourists from May to October. Such environment simply doesn't go well with the spirit of the pilgrimage, at least in my view.
If you decide to sleep in Bilbao, I recommend you booking the hostel at least one day in advance (ideally more), especially in the summer.  There is one albergue that accepts only pilgrims called "Albergue de peregrinos Santa Cruz de Begoña". However, they do not accept reservations, and have only 22 beds. They also open very late (from 3pm), and typically there are 22 pilgrims waiting in front of the albergue from 1pm already, or even earlier, and I think you can use your time in Bilbao better than waiting in a queue with your backpack. Hence it is much better trying to reserve a bed in one of the tourist hostels, or even share a hotel room with another pilgrim (to save some money), without having to race for bed in the one donativo albergue that actually exists in Bilbao.
Next/Previous Stage