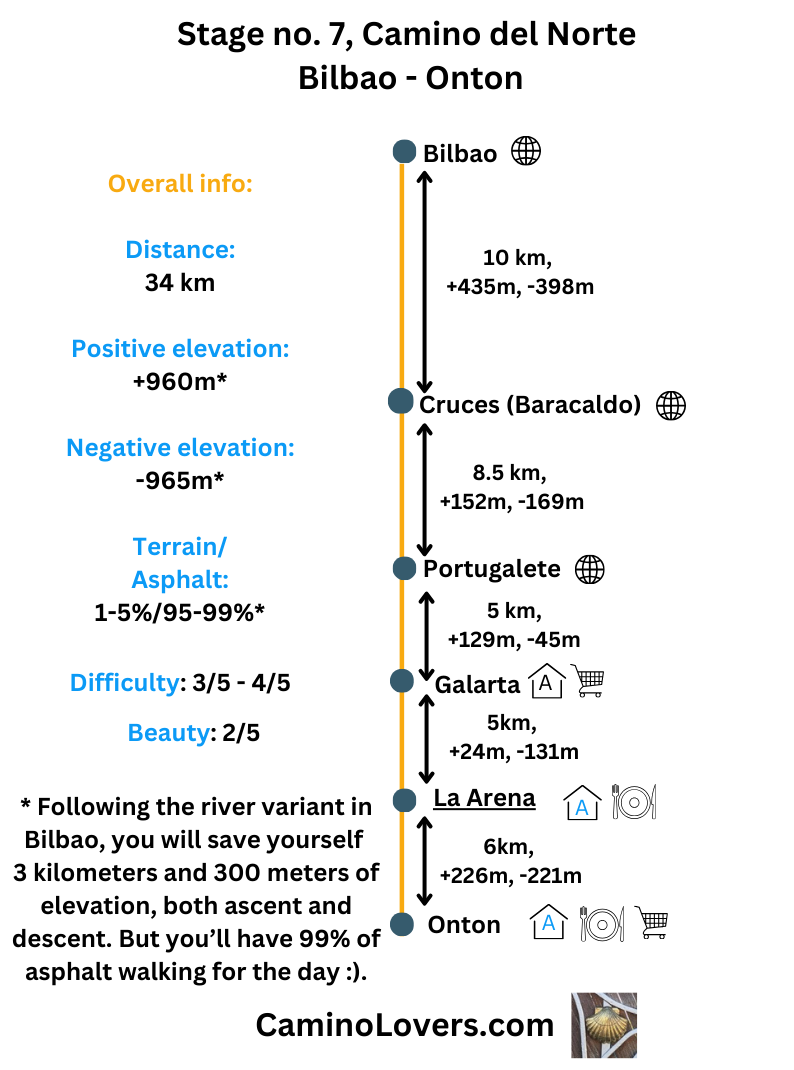 Basic Details
Starting point: Old town of Bilbao
Ending point: Albergue de Peregrinos Onton (a donativo pilgrim hostel in Onton, a really nice one and worth staying at).
Availability of alternative routes: Yes, you can follow the river in Bilbao and cross to Portugalete by the bridge. Following this way, you'll spend more time in the conglomerate of Bilbao, but you'll save yourself 300 meters of climbing, and descending, and the way is also 3 km shorter. It isn't a nice way though, the original camino is much nicer.
Distance: 32-35km (download GPS here) * Some people who hate big cities, or have little time, take a public transport to Portugalete, saving about 15 kilometers from the walk (and avoiding the strenuous through the city streets). Obviously I do not recommend this option (a pilgrim should walk, also the parts of the Camino that aren't so nice), but I still wanted to mention the option here, since it is an option that many "pilgrims" opt for. And it is a good one if you walk with a dog, since this stage isn't dog friendly at all!
Elevation difference: + 960m, – 965m (+660m, -665m for the river variant).
Link to online map: here.
Difficulty score: 3/5-4/5 (the 3/5 is for the river variant, the 4/5 for the "official" Camino route).
Beauty score: 1/5 -2/5. (1/5 for the river variant, 2/5 for the offficial Camino)
Terrain/asphalt: 1%/99%
Elevation profiles for routes

– Elevation profile, river variant route, generated by trackreport.net
Advanced info about the stage
Trail marking: As it is often the case, the navigation is the hardest in big cities. And while there are many yellow arrows in Bilbao, some can be obscured by a new building, some temporary construction, or just by cars, people walking by, etc. Some pilgrims prefer to follow the river all the way to the crossing before Portugalete. It is certainly easier from the point of navigation, but there aren't many camino signs (or at least there weren't many back in 2022 when I was there the last time). Hence in the city I definitely recommend you keeping your eyes open and helping yourself with some good mapping application (check our article on best maps for Camino de Santiago), or download the GPS file from our website and follow it on your favorite device.
Alternative route info: There are two alternatives that pilgrims use on this stage. First one is taking the public transport from Bilbao to Portugalete, and the second one is walking next to the river instead of through the maze of streets of Bilbao. However, you should not romanticize the "river walk" too much. It is still 100% on asphalt roads, and you share many parts of the walk with cars. In my opinion, it isn't really any better than the "official" camino way. But you will certainly save elevation, and a few kilometers, following the river variant.
Natural places worth seeing: The last 5 kilometers from Pobena to Onton are nice, with many stunning views, and some interesting rock structures, such as the one close to the coast of Pobena. It is definitely a well-deserved reward after the long day of walking from Bilbao. You can see pretty much everything from the Camino, so no detours are necessary here.
Historical, architectural, and culinary places worth seeing: Obviously as every big city, Bilbao offers a bit of everything, regardless of whether you are an architecture lover, enjoy history, or want to have some decent and overpriced meal. My number one choice is definitely the Guggenheim museum, worth to see both from outside and inside. For someone with a sense for machinery and industry, someone with "a heart of a technician", the many smaller and bigger factories you'll pass by while traversing the conglomeration of Bilbao can also be interesting. Close to Onton you will see a few abandon mines, for example the "Complejo minero de Piquillo" called on some maps also "Ruinas de la antigua mina de Ontón". As the name suggest you will see mostly ruins of the antique mine, but the place has a nice vibe and one can smell the history and the hard work of our ancestors on such places…
Camping/bivouac options on this stage: Very hard to find any decent camping or even bivouac spot. You are still pretty close to the big city, and the urbanization is at its utmost here. There aren't any official or organized camping sites either. However, I've heard from some pilgrims that they camped on the Playa de Lastron (a small lesser know beach just before La Arena, which is just before Pobena). Since all tourists go to the more famous playa de Arena, and the access to Playa de Lastron is more difficult (too far from the car for a typical tourist), this beach is almost always quiet, and in the evening you can be there alone and camp without having to worry about some policeman going to fine you. Bear in mind though that it is a rocky beach (no sand), which is better for mounting a tent but worse for a good sleep, unless you have a decently thick sleeping mat :).
Dog friendly score: 1/5. Overall a very bad stage for dogs. Only asphalt, many road crossings, traffic lights, lot of noise, some parts dangerous with cars or bicycles. If you're with a dog, perhaps you can take the public transport to Portugalete. It isn't that much better from there either, but at least you avoid the bustle of the big city.
Special remarks: Anytime you walk on the road or on a cycling path, walk on the left side. While drivers in Spain belong to the best in Europe when it comes to respecting pedestrians and cyclists, you should not forget that this is big city, people are in rush, many drivers are on their phone, etc. Hence it is pivotal to walk on the left side of the road, so you see the cars or bikes approaching you, and react appropriately.
Pictures from the stage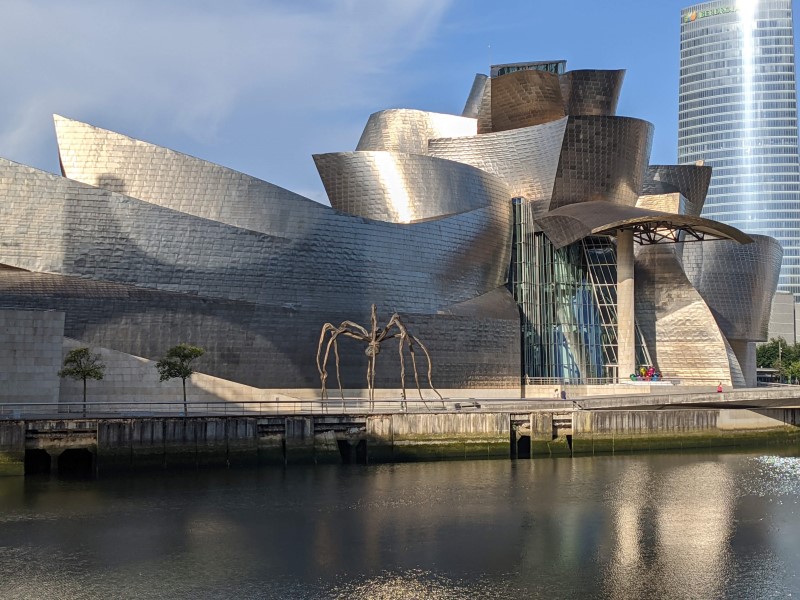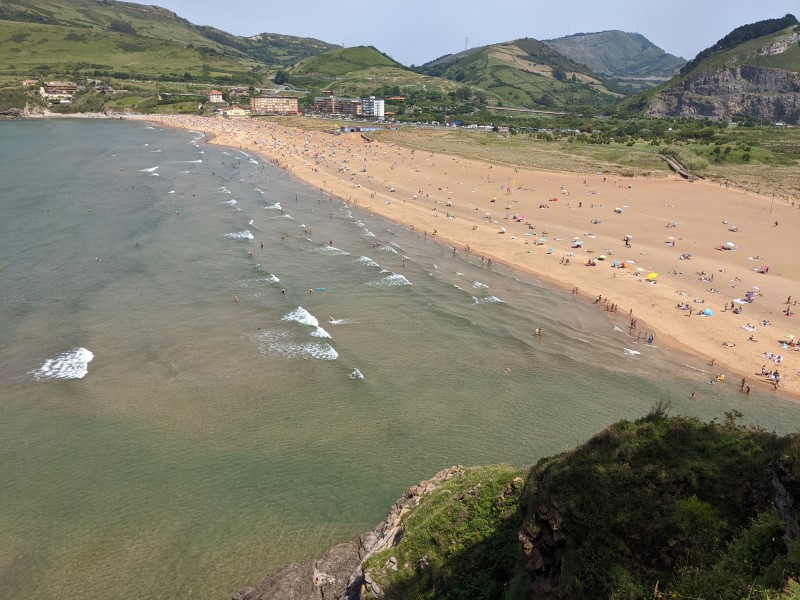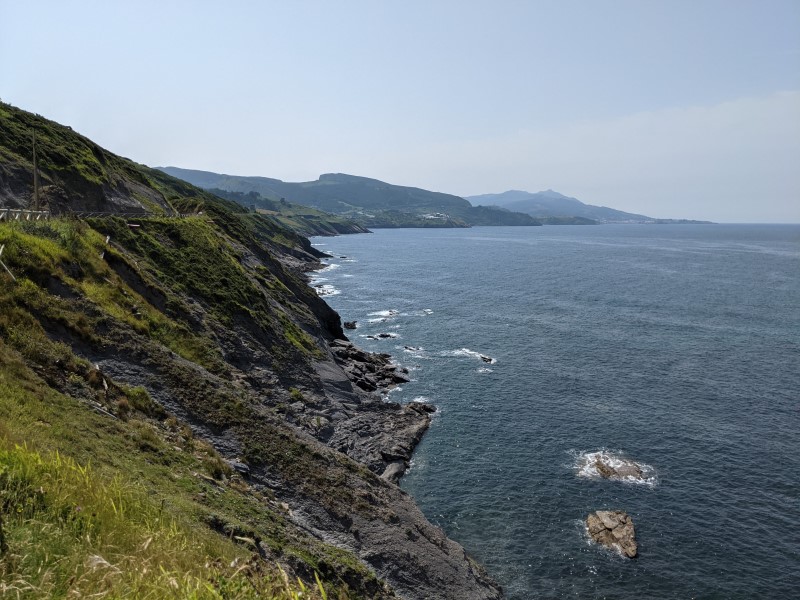 – Do not get too excited about the last two pictures :). I took them at the very end of the stage, pretty close to Onton. Most of your day will be spent on roads, city streets, and cycling roads, and you instead of beaches and nature you will see buildings, cars, smelly factories, and people. At least the last one from the four isn't too bad I believe, but sure it isn't likely what you hope for when going to walk the Camino.
Few tips at the end
I highly recommend you NOT taking the public transport in order to skip the walk in Bilbao. It may certainly be tempting (perhaps learning to overcome temptations can be one of your goals on the camino), but just like in life we have ups and downs, and better and worse periods, the Camino also have its nicer and uglier parts. Stages like this one also form the part of the experience. And once you are in Santiago, knowing that you walked each single kilometer of the way (except of the few obligatory boat crossings), you'll have a different feeling than those who cheated, taking public transports and taxis whenever tired…
When walking stages like this one, try to focus on the positives instead of the negatives. Maybe you won't see any spectacular nature during today's walk. But you can definitely see some nice architecture, enjoy the diversity in the streets of Bilbao (in terms of both people and buildings), and perhaps even experience a feeling of gratitude for a good ice cream or some tasty cake in the bakery, the kind of a treat we can enjoy only in bigger cities while walking the Camino…
Next/Previous Stage