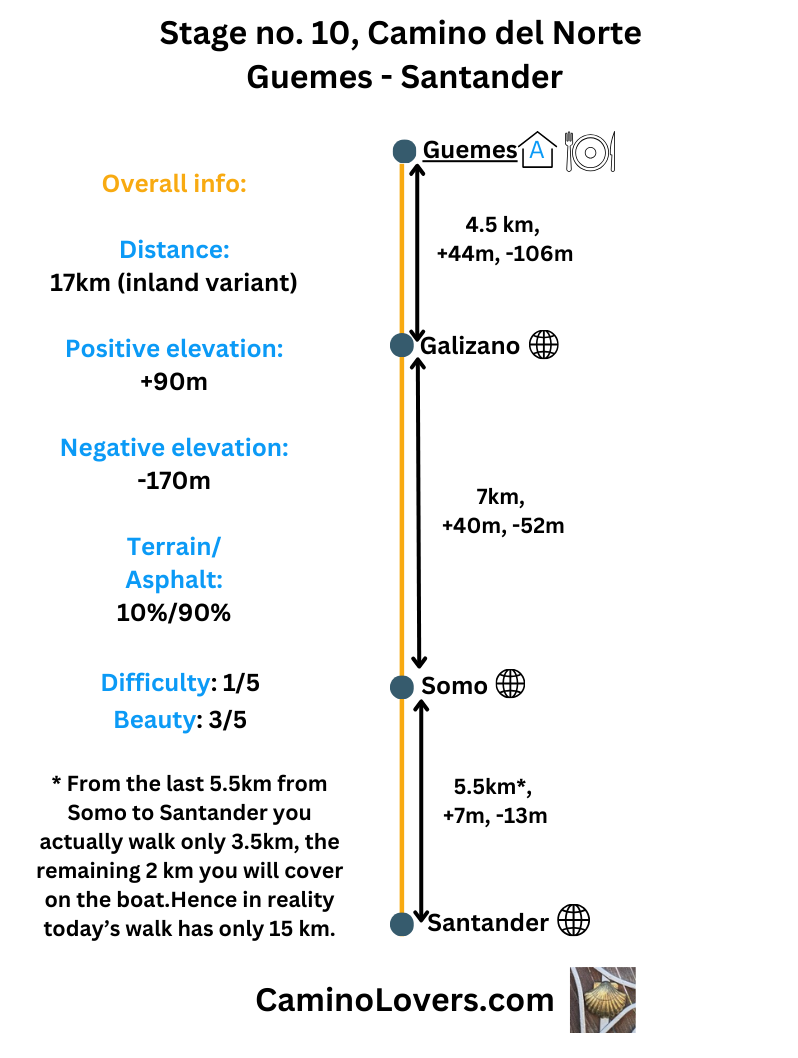 Basic Details
Starting point: Albergue de Abuelo Peuto, Guemes (one of the top 3 most famous albergues on all Caminos in Spain, definitely a must stay while you do the northern route).
Ending point: Palacio de Embarcacion, Santander (right after the obligatory boat crossing from Somo to Santander).
Availability of alternative routes: Yes, there is a coastal variant, and definitely worth taking, especially on a nice sunny day. Not only will you pass through several really nice beaches such as Playa de Langre, or Playa de Somo, which is one of the most popular beaches for surfers on the entire northern coats of Spain (the waves can be really big here), but you will avoid a lot of road walking. Sure, you will have to cover 200 extra meters of elevation, but that's not that much and I can assure you the coastal route is worth taking. However, on a rainy day it is typically very windy here, and on such a day I recommend simply following the inland route. 

Elevation difference: Official Camino route: +90m, -170m , Coastal variant: + 220m, -310m
Difficulty score: Official Camino route : 1/5, Coastal Variant: 2/5
Beauty score: Official Camino route: 3/5, Coastal variant: 4/5
Terrain/asphalt: Official Camino route: 10%/90% , Coastal Variant: 50%/50%
Link to online map: here.
Elevation profiles for the routes

– "Official" camino, as you can see it is really a chill stage, with no big gradients on both ascents and descents. One of the easiest on the entire Camino.

– Alternative route, you can see it is bit more hilly, but the gradient never reaches even 10%, and all in all you do not have to be afraid of doing the coastal variant.
Advanced info about the stage
Trail marking: The stage from Guemes is better signposted than other stages in Cantabria, with more yellow arrows. Just make sure to pay special attention to signs in Galizano, exactly at this point, because that's where you should turn right to follow the coastal variant instead of the variant on the side of the road. The coastal variant isn't well signposted, but since you are always at the edge of the ocean, as long as you have the water at your right hand when moving forward, you're good to go. For the majority of the time the coastal variant follows the hiking trail called "Senda Litoral", which is marked with red and white stripes, and this can help you with navigation as well.
Alternative route info: This variant is wonderful on a sunny day, with nice small trails, many views, and a couple of stunning beaches on your way (Playa de Langre, Playa de Somo). Definitely worth taking when the weather is good. However, this part of the coast is extremely windy too (that's why the beaches belong to the favorite choices for surfers), hence if it rains or the weather is windy in general, you should think twice whether to take it or not. In contrary to some other parts of the coast the trail isn't steep, and you do not need to worry about technical difficulty either.
Natural places worth seeing: The very beginning from Guemes passes through beautiful green forests, and although you walk on the road, there aren't any cars and you can enjoy the air. Once you reach the main road though (CA 141), there's nothing worth a mention on the official camino route, when we speak about the natural beauty. If you opt for a coastal variant, however, you will pass over several stunning viewpoints and beaches (see the pictures below). My favorites are probably the lesser know Playa de Arenillas (since 2023 it is not allowed going there by car or parking nearby, which discourages 90% of tourists, and you as a pilgrim can just walk down and enjoy a morning swim), and the viewpoint Mirador de Langer. But at the end of the day the names aren't really important. What matters is to open both your eyes and soul to the amazing beauty of Northern coast of Spain. Stop anywhere you like, take as many swims as you want, and enjoy this while it lasts, because the next day from Santander to Santillana is 100% on asphalt, and you won't see the coast (unless you take the alternative route over Boe de Pielagos).
Historical, architectural, and culinary places worth seeing: As every big city, Santander offers a variety of restaurants of all cuisines and price ranges. Whether you're vegan, Asian food lover, pizza lover, or a fast food junkie, you'll find what you want in this big city. There are also one or two decent ice-cream shops, though in general it is really hard finding a truly good ice cream anywhere in Spain (if you're used to Italian quality of ice cream, like I am, you will know what I am talking about). Ice cream, coffee, and pizza are simply not Spanish strengths :). Anyway, in terms of history and architecture, Santander doesn't have that much to offer. The city is pretty modern, and has the same shops and buildings as any other bigger modern city in Europe. If you want, you can check the Wikipedia page for some inspiration. In my opinion, the only two things worth visiting are the Palacio de Magdalena and the Cathedral of Santander. Of course, if you happen to know someone local, they may take you to some interesting places, perhaps to explore the nightlife of the city. But that's not something attractive to 95% of pilgrims, and hence I won't elaborate on it here.
Camping/bivouac options on this stage: Wild camping is rather hard on this stage. Try avoid big beaches like Somo, frequented by surfers, since police patrols these tourist places regularly and once they see you in a tent, they will 100% come and send you away. If you want to camp outside of the organized (and paid) camping places, I recommend trying your luck at Playa de Arenillas, and that's about it. Anything closer to Santander is either too touristic or not a good spot for wild camping. When it comes to organized camping places, however, you have many options, especially in Somo. There are four or five camping grounds, and while none of them have an excellent reputation with pilgrims, I would recommend one of the two below (! they're not great, but the best you can get in the location):

Camping Somo Parque – Super nice quiet location, decent facilities, nice owner, restaurant on site, good prices, you may be able to negotiate a pilgrim discount. The downside is that it is 1.2 kilometers away from the Camino.
Camping Kampaoh Somo Playa – Right on the Camino (you basically pass next to the entrance to the camping), you can rent a nice tent, the facilities are nice and clean. It is quite expensive for a pilgrim though, and in summer do not count with a quiet night :). The camping is meant for holiday makers and not for pilgrims…

Dog friendly score: 3/5. Not too bad, with a lot of shade during the first part of the walk (the descent from Guemes back to the coast), and then the coastal alternative has a really good terrain for dogs, and there are also some fountains with drinking water. However, Santander as a city isn't dog friendly (in summer months dogs are prohibited on the city beaches too), and you may have problems finding an accommodation which accepts dogs. If you walk with a dog and prefer to sleep in Santander or close by, your best bet is to camp (check the camping section above).
Special remarks: Die-hard pilgrims, who want to avoid boat crossings at all costs, have an option too. From Somo, you have to walk 14 kilometers south, with little elevation, on the edge of the bay of Santader, until you reach a bridge in El Astillero. You can see the route here. Then route isn't bad, and a big chunk of it is on the trail, instead of on asphalt. Then you also do not have to go back to Santander, but can follow a poorly marked southern deviation of the Camino, and connect with the official way later on. You can see the route here. However, I do not recommend this option, unless you are on extreme budget and want to save the 2.50 euro you'll pay for the boat, or are a die-hard pilgrim who simply doesn't use any boats on their pilgrimage :).
Pictures from the stage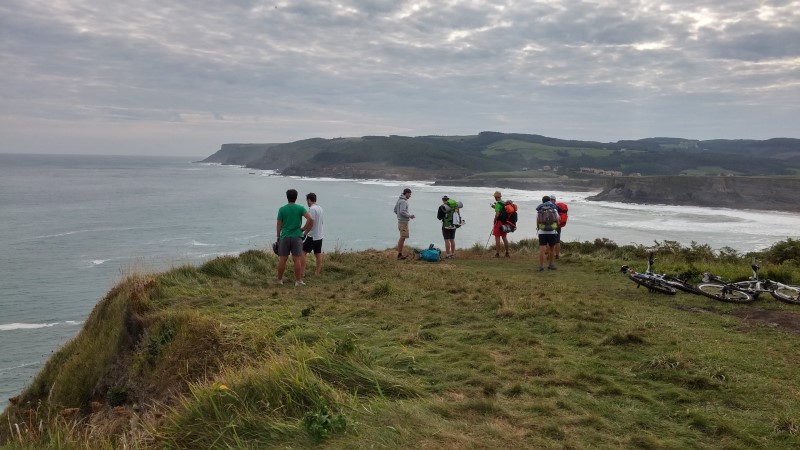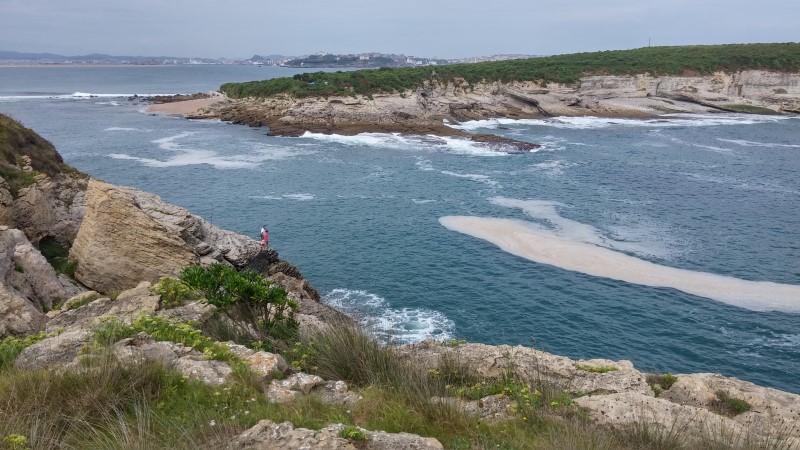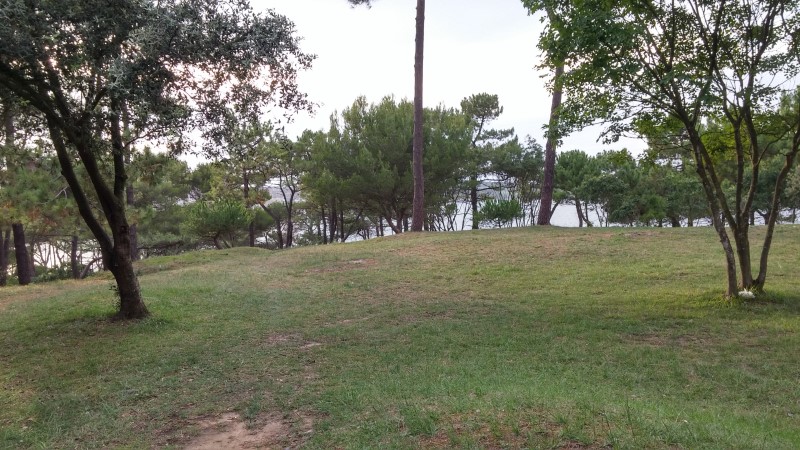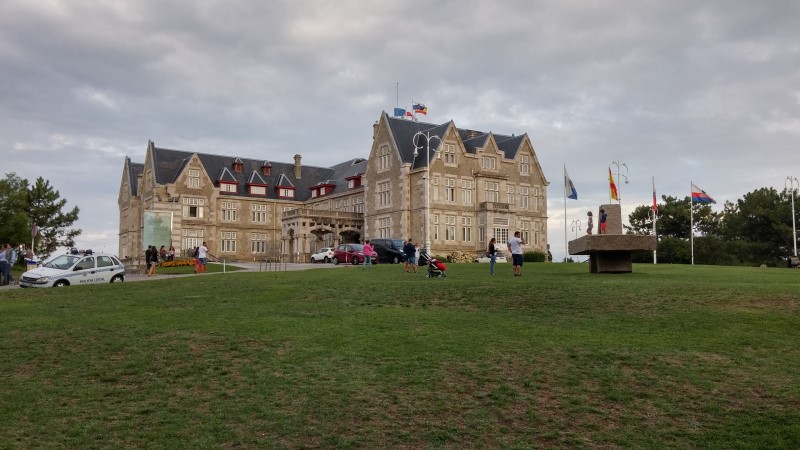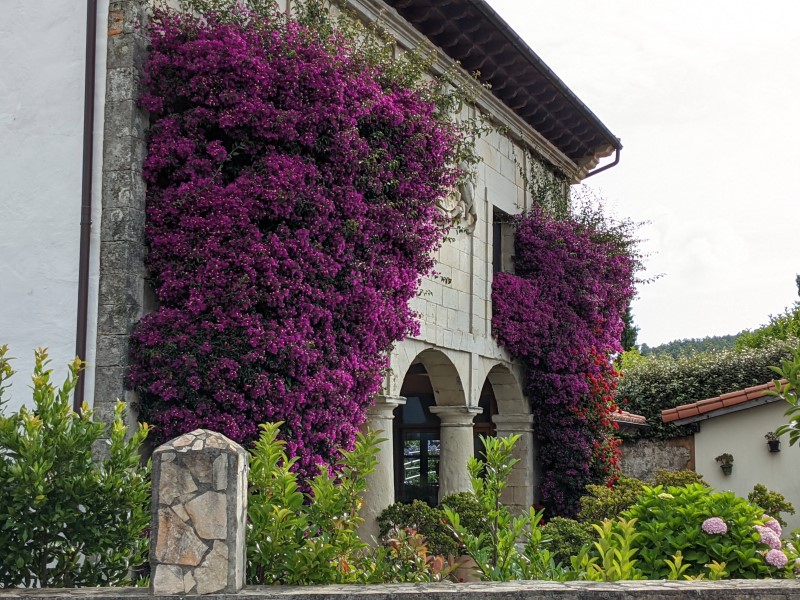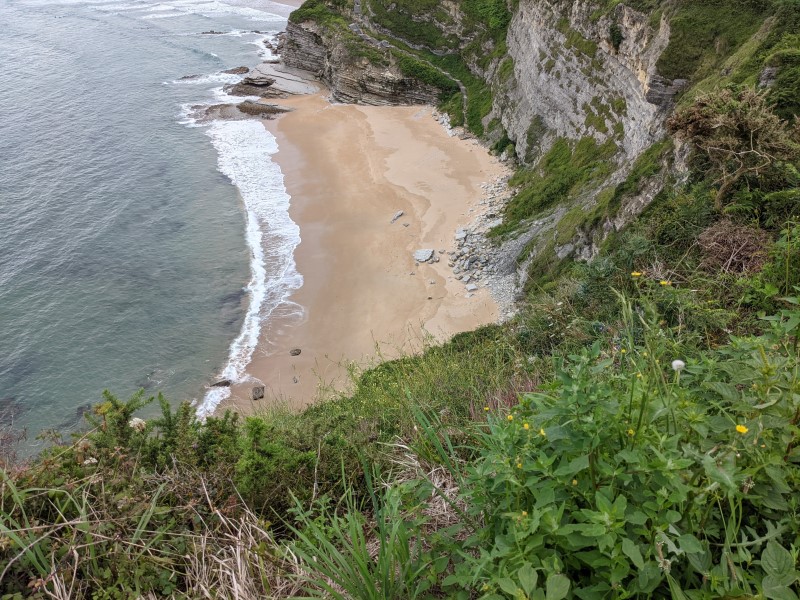 Few tips at the end
The pilgrim albergue in Santander is really bad. The facilities are pretty old, and lately it had a lot of problems with bed bugs. Also there are just too many people in each room, with she squeaky beds and everything. Of course, things can always improve (and I hope they will), but I recommend you going for one of the normal hostels in Santander, or skipping the place altogether. What often happens is that once you descend the boat in Santander, someone will approach you in the port. Many people who own apartments in Santander rent them to pilgrims, some having a license and some don't :). Anyway, the places are typically nice and clean, and the price is more than reasonable, especially if you walk in a small group with other pilgrims. This can be an option as well, especially if you decide not booking anything in advance in Santander…
Santander as a city doesn't have much to offer. There are just a few architectonic or historic places worth seeing, and in general it is a busy city full of cars, businesses, and modern buildings. Unless you are a fan of shopping and night life, or have some medical emergency and seek a help in a hospital, I do not recommend you taking a day off in Santander. There are many nicer places on the coast for the pilgrims, smaller, but with more to see and a much better vibe overall. One of them coming on the very next stage of your pilgrimage–Santillana del Mar.
Next/Previous Stage