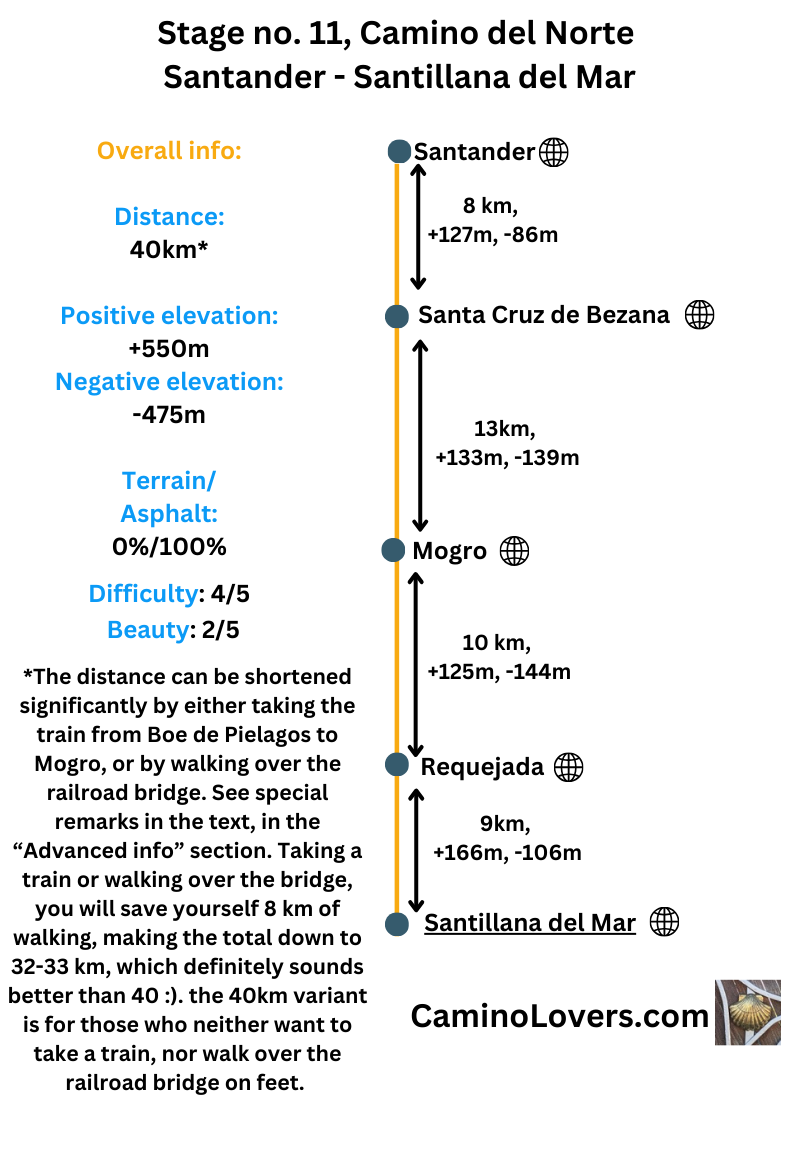 Basic Details
Starting point: Old town of Santander (there isn't really any old town in Santander to be honest, but let's make the start from the Cathedral :))
Ending point: Santillana del Mar, town center (it is pretty small and any albergue is within 5 minutes walking distance from the very center of Santillana).
Availability of alternative routes: Yes, and it is a BIG detour, but worth making for anyone who simply hates walking on a dangerous roads with many cars, and in pilgrim-unfriendly environment in general. The coastal route (the alternative route) has a stunning 58 kilometers, but pilgrims who follow it typically split it into two days, sleeping in a nice albergue in a place called Boe de Pielagos, called Albergue Piedad. Doing this, they split the way into two parts, first one having roughly 32 kilometers, and the second one 26 kilometers. You will find more info on the alternative route below, in the "advanced info on the stage" section.
Distance: Official camino way: 40 km (download GPS here), *can be shortened to 32km by taking a train, or by walking over the railroad bridge, see more info below in the text. Alternative camino way: 58 km, typically done over two days (download GPS here).
Elevation difference: Official Camino way: +550m, -475m . The coastal variant: +1004m, -950m
Difficulty score: Official Camino way: 4/5. Alternative Camino way 5/5 (I would give 6 if it was an option).
Beauty score: Official Camino way: 2/5. Alternative Camino way: 4/5.
Terrain/asphalt: Official Camino way: 0%/100% (yep, there's only asphalt on this stage, and some of it on pretty busy roads too). Alternative Camino way:  45%/55%.
Link to online map: here.
Elevation profiles for routes

– "official" camino route, quite a few hills but nor really steep, except of one brief descent on km 22.


– alternative route is much more eventful, you stick to the coast for the first 30 km, and in the second part of your coastal walk there are quite a few small yet steep ups and downs (leading to beautiful places too).
Advanced info about the stage
Trail marking: Getting out of Santander is a bit of an nightmare. Not that you won't find yellow arrows, or scallop shells on the ground. But it is a BIG city, always crowded, some construction is always going on, and sometimes amid all the people, billboards, scaffolding and stuff it is really hard to spot a solitary yellow arrow. Once you quit the city the marking is quite good, but then other problems start. Such as trying your best to not get killed by one of the many cars passing by you… You will also pass through several roundabouts, some of them big and busy, so pay special attention to yellow arrows there, since it easy to make a mistake.
Alternative route info: The alternative route can be characterized in two words: Brutal and beautiful. 58 kilometers with over 1000 vertical meters is a bite way too big to swallow for any pilgrim (unless you belong to that crazy group of people who actually RUN the Camino, with a small backpack, always staying in pensions or hotels, since such people typically cover over 50 km on a day). Anyway, the alternative route follows the coast all along Santander (with some super nice spots especially on the north side of the city, such as the Palacio de Madgalena, and the surrounding park (a bit too touristic for my taste, but super nice nevertheless), or the Parc de Cabo Mayor, with great views over the cliffs, and couple of lighthouses. Once you leave the zone of Santader the coastal path becomes almost deserted, and the trail gets narrower. Still you pass through many nice places on your way to Boe de Pielagos, such as Parque la Maruca, or the beach Playa se Arnia, with some breathtaking rock formations, created by the power of winds over millions of years… You also have plenty of restaurants along the coast, and do not need to worry whether or not you'll find some refreshment points. The stunning scenery continues all the way until you reach the bay of river Mogro, and finally leave the coast to connect with the Camino in Boe de Piellagos (where most people following the alternative route sleep for a night). From then on you follow the same way as the rest of the pilgrims. You can download the GPS for the entire coastal route here. Following this alternative route, you not only enjoy the beauty of lesser known parts of the coast of Santander, but also avoid the dreaded and ugly road walking that awaits everyone who follows the "official" camino from Santander to Santiallana.
Natural places worth seeing: On the official Camino route, there's nothing worth mentioning. On the alternative Camino way there's almost too much to mention, please check the description of the alternative route in the previous paragraph.
Historical, architectural, and culinary places worth seeing: You will end today's stage in arguably one of the most beautiful villages in the entire Spain, Santillana del Mar. The famous French existentialism writer and philosopher J.P. Sartre called it the most beautiful village in Spain, and although he visited it back in the day when it wasn't 1/100 as touristic as it is today, his words should not be taken lightly. Santiallana is beautiful, and has a medieval vibe you won't experience anywhere else on your Camino del Norte. There are museums, church (with paid entrance), but even if you just walk across the streets and check some of the craft shops with authentic souvenirs (a totally different kind of souvenirs that you can buy in Santander or other big city on the camino, including Santiago de Compostela), and breath in the atmosphere, I guarantee you it will be one of those evenings on the Camino you won't forget… A special tip is to walk in the center also once it is dark already, since with lights Santiallana is particularly beautiful. There is one more thing worth mentioning, and that's the museum of Altamira Cave. Altamira Cave is probably the most famous cave in entire Spain, with cave paintings as old as 36,000 years, done by our predecessors. In order to conserve this cultural heritage of UNESCO, general public cannot really enter the cave itself. However, you can go to the museum, and see the pinpoint reconstructions of the paintings, together with explanations and everything. In my opinion it is a visit worth doing, although the museum is 2.5 km away from the center of Santiallana. Open every day except Monday, tickets start at 3 euros and if you're over 65 you should get in for free :).
Camping/bivouac options on this stage: On the official Camino route it is virtually impossible to find a good camping spot… It goes too far away from the coast, and there aren't any good spots along the route really. It is always too busy or when it is not, there is a fence and a sign of "private property", with dogs barking in the distance. There is one organized Camping in Santiallana, but it has a rather bad reputation (as you can see on Google), and from what I've seen when I was there is is well deserved… The facilities are outdated, and there isn't any interest from the owners to improve the place. Price pretty high for pilgrims too… If you follow the alternative route on the coast however, until Boe de Pielagos (km 32), you have many options for either wild camping (one of the less touristic beaches of the zone, just walk and you will see), or in one of several organized camping grounds. I recommend the two following:

Camping Playa Arnia: Right on the Camino, with a wonderful beach of Arnia close by. However, the place can be full, especially in August, and the camping is open only from mid June to mid September, hence it is something to count with, and I definitely recommend you to call in advance, making sure you can stay.
Camping Virgen del Mar: Again right on the coastal way, with two beautiful beaches nearby. The facilities are in decent condition and they are typically flexible with pilgrims.

Dog friendly score: 1/5. The official camino route is simply a disaster for dogs. Avoid it if you can, especially if your dog doesn't feel comfortable in high traffic. With a dog it is a must taking the alternative route, which offers much better terrain, water fountains, and most importantly you avoid the part of walk on the busy roads with many cars.
Special remarks: There is a peculiar rail bridge crossing on the way, between the villages of Boe de Pielagos and Mogro. You can see the position of a bridge here. Basically you have three options of getting through this section:

No. 1. Taking a small train that goes from Boe to Mogro. The train passes every hour, sometimes two times an hour. You board in Boe de Pielagos, and exit just one station further on, in Mogro.
No. 2. Making a rather peculiar detour down south, and crossing the river over the bridge in Oruna, on the national road of N-611. This detour adds extra 8 kilometers to your Camino.
No 3. Crossing the railroad bridge, with precaution. Now, some paper camino guides (many written by people who actually never walked this route) say it is super dangerous and can never be done. This simply isn't true… First of all, the trains aren't so frequent here. If you wait until one passes, in both directions, you do not have to worry about encountering another train in next 15 minutes, and can cross the bridge calmly (it has only 100 meters). Secondly, there is enough space on the side of the railroad (see the picture below), so even if you make a mistake and the train passes while you are there, you just push yourself to the rails on side, and the train passes by you with enough distance between your body and the body of the train… And last but not least, the hiking trail "senda costera" have historically passed over the railroad bridge, and on many maps it is still marked as passing over there. If hikers can pass over the bridge, why pilgrims cannot? To sum it up, this bridge can definitely be crossed, and I've crossed it on two occasions. But if you're afraid of it from any reason, opt for option no. 1 (taking a train) or option no. 2 (making the detour over Oruna).

* Disclaimer

: This website is for information purposes only–pilgrims for pilgrims. However, you use the information on your own risk, and we won't bear any responsibility for any losses or damages that can happen to you, be it while crossing the railroad bridge from Boe de Pielagos to Mogro, or by walking any other part of the Camino, following the instructions from this website. You use the website and walk the way on your own risk
Some pictures from the stage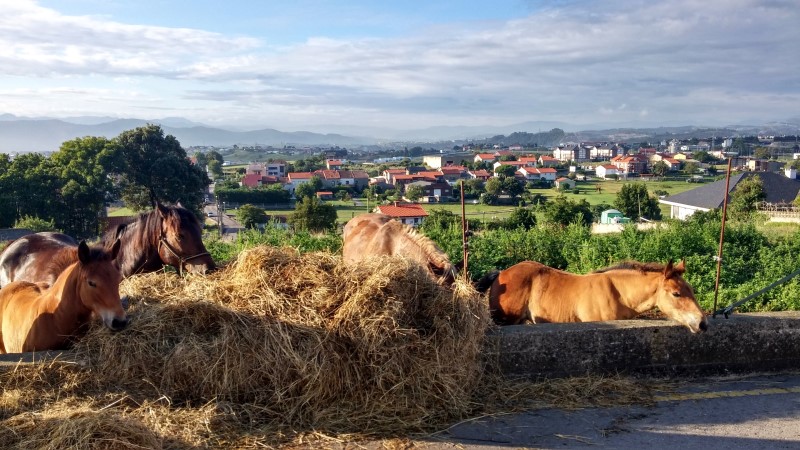 – You will always find some beautiful horses in Cantabria, even if they are on the side of the road.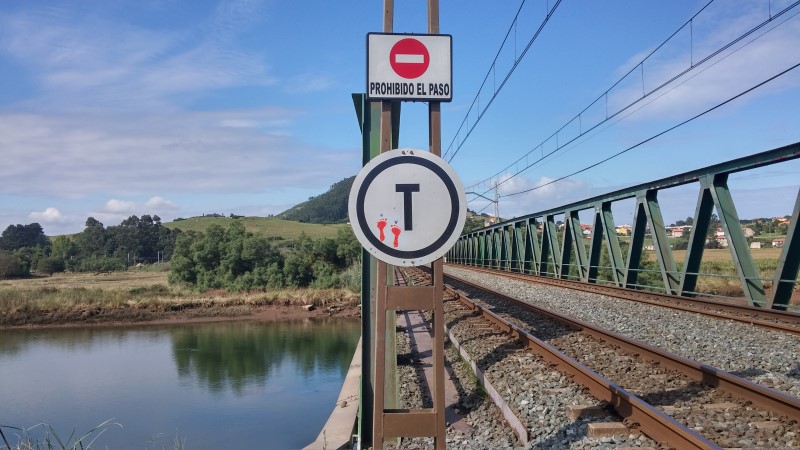 – The dreaded rail bridge crossing between Boe de Pielagos and Mogro. As you can see on the picture, the bridge is not long, and there is plenty of space on the side of the railroad tracks. While the Spanish authorities are fine letting the pilgrims walk on roads with immense traffic and almost no space for walkers, with dozens of cars passing by you every minute, they forbid us to cross a 100 meters long bridge with 2 trains passing through it every hour… What can one say to that?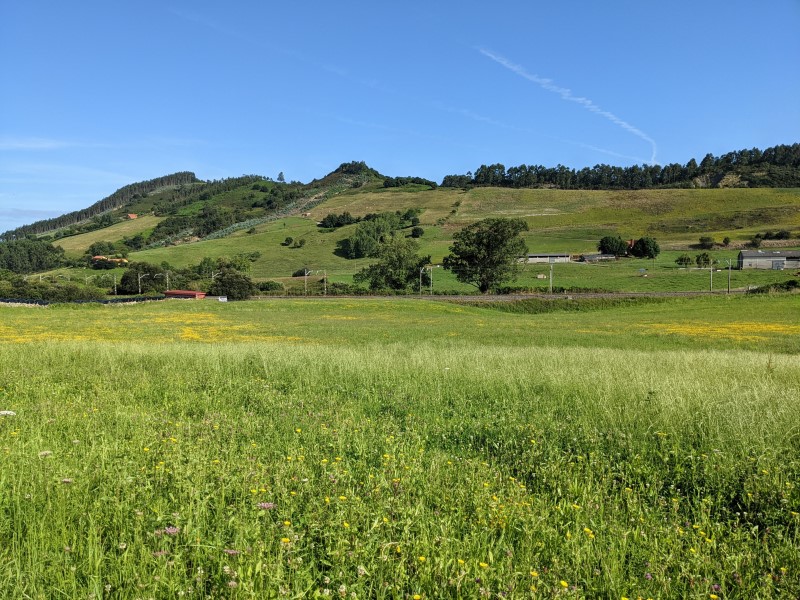 – Even if the stage isn't nice in general, you have some decent views along the route.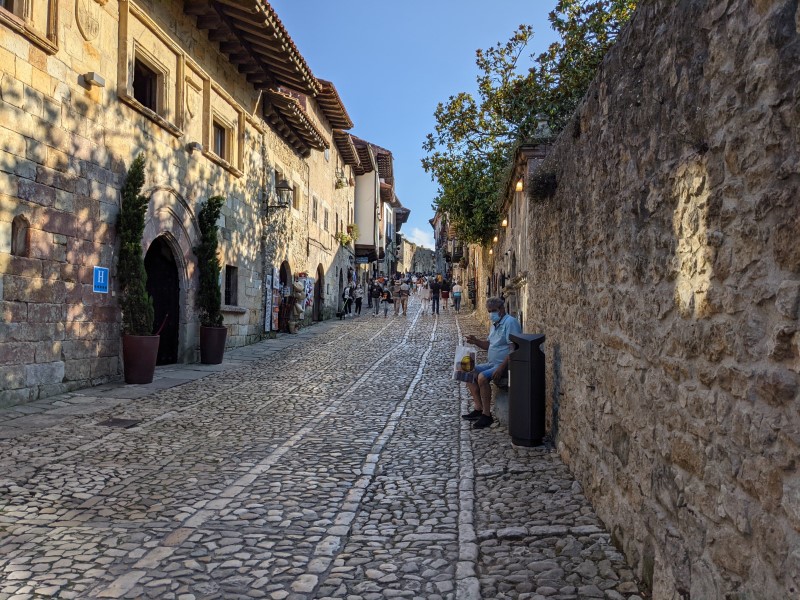 – Santillana del Mar, during covid-19 pandemics (you can see the masks on the faces of people)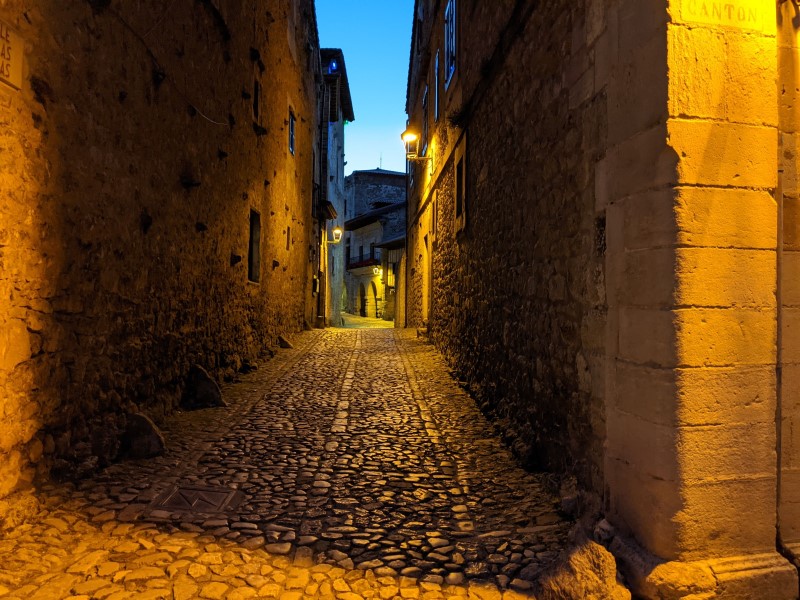 – Santillana in the evening, super romantic with lights and everything. The only thing I missed on that evening was some nice company :).
Few tips at the end
If you take the official route, pay special attention to cars, and always, always walk on the left side. The stretch on the outskirts of Santander belongs to the most dangerous stretches on the entire Camino, especially the first part of the walk. I also do not recommend you using head phones at this part. Though tempting no doubt, it is better to keep your senses 100% open to your surroundings, so you can react appropriately if some driver seems not to see you, for example while playing with their mobile phone, which quite a few drivers do in Spain (and everywhere else for that record).
This stage can be extremely hard on your feet, especially if you wear big hiking boots and walk on a hot day. I saw way too many pilgrims who had to stop for a day in Santillana due to the problem with their Achilles or one of the tendons, or suffering from "shin splints". This is due to lot of flat road walking (yeah, 40 kilometers is a lot). In order to avoid this, you should walk rather slowly, and take your shoes off and do some stretching anytime you stop during the day. I know it may be tempting to rush and quickly get out of the busy roads section. If you do so, however, be ready to pay the price with a forced day off in Santillana :).
Next/Previous Stage